Learn more about our scholarship opportunities
We know that college expenses grow every year. That's why we created our scholarship program to help offset some of those expenses and help our local area high school members continue their journey to success.

All programs are sponsored solely by Westerly Community Credit Union. Applicant or Parent/Guardian must be a member of WCCU and attend a local high school to be eligible to apply. For more information, contact Kim Gates, WCCU Financial Education Officer at (401) 596-7000 ext. 2124 or at [email protected].
Our 2023 Scholarship Recipients have been announced. Stay tuned for 2024 Scholarship opportunities.

Learn More
Westerly Community Credit Union College Scholarships
WCCU awards four $1,000 College Scholarships annually to graduating high school seniors planning to major in any area of study. Applicants must be accepted to a two-year or four-year college and have a high school GPA of 3.0 or higher. Submit one application to be considered for one of these scholarships.
The Robert M. Bewlay Memorial Scholarship
The Joseph N. Cugini Memorial Scholarship
Westerly Community Credit Union College Scholarships (2)
Westerly Community Credit Union Trade/Industrial Arts Scholarship
WCCU awards a $1,000 scholarship annually to a local graduating high school senior who plans to enroll in an accredited Trade/Industrial Arts program. Applicants must already be accepted into a locally accredited program and have a high school GPA of 2.8 or higher
The Cooperative Credit Union Association College Scholarship Program
WCCU is part of the Cooperative Credit Union Association (CCUA) and proud to participate in the annual scholarship program. Three scholarships of $1,500 each are awarded on a statewide basis each year to high school seniors who plan to enroll in undergraduate college/university degree programs. As a sponsoring Credit Union, WCCU will submit its top three entries for consideration.
Westerly Community Credit Union is a full-service credit union with Rhode Island branches in Westerly, Richmond, Wakefield, and Coventry.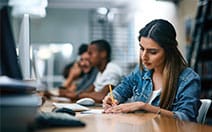 Financial Education
New! Financial Education Center to help you with every financial situation.
WCCU helped my wife and I pay off our mortgage. We have been mortgage-free for over a year now and have gained financial freedom.
David I. of Charlestown
We joined right after WCCU opened. Needed a loan to pay off some bills. Everyone is so helpful and always has a smile for you. Always made me feel like part of the family. For me...the WCCU is the only place to bank! Thank you so much for such great service over the many years!
Gerry M. of Westerly
We joined the WCCU many years ago because we really got tired of the big banks with their big fees and lack of community. We stayed because they treated us like we mattered. They valued their members by offering great rates on mortgages and HEQ loans. When my husband became ill, they worked with us until we could get back on our feet. Only small hometown banks offer this type of service.
Deanna C. of Westerly