Why do we give? Because we want to be a positive force in our community.
At WCCU, we care about you, your financial needs, and our community! That means providing exceptional financial services, as well as being consultants for every stage of your life. For those who want to learn more, we provide financial literacy and work within our community to build & promote strong financial management skills. And finally, we support our local communities by sponsoring and volunteering to over a hundred worthwhile organizations and events yearly.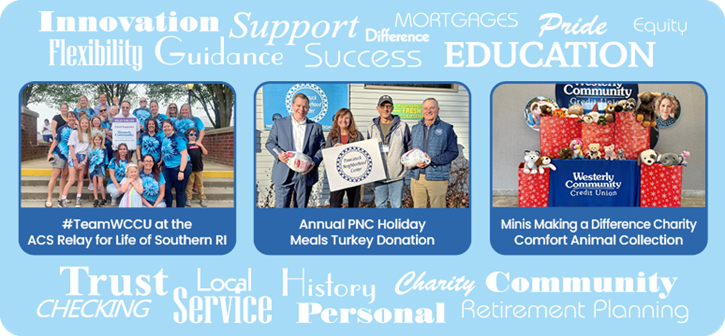 Have a donation request? Please forward it in writing to: Westerly Community Credit Union, Attn. Donations Committee, 4979 Tower Hill Rd., Wakefield, RI 02879.
Alzheimer's Association
American Cancer Society
American Heart Association
American Parkinsons Disease Association of RI
Arthritis Foundation
Babcock Smith House & Museum
Broad Rock Middle School
Chariho High School Sports Boosters
Chariho Lions Club
Chariho Rotary
Children's Miracle Network
Chorus of Westerly
Colonial Theatre
Community 2000 Education Foundation
Domestic Violence Resource Center South County
Fastpitch Nation
Girls on the Run
Hasbro Children's Hospital
Invisible Wounds – Veterans & Families
Jonnycake Center of Hope
Jonnycake Center of Hope – COVID-19 Relief
Jonnycake Center of Westerly
Jonnycake Center of Westerly – COVID-19 Relief
Living Supplies Closet – COVID-19 Relief
Maddie Potts Foundation
Minis Making a Difference
Misquamicut Business Association
Multiple Sclerosis Walk
NEARI Childrens Fund
New Hope Chapel Food Pantry
North Stonington Education Foundation
Ocean Community Chamber – COVID-19 Relief
Ocean Community YMCA
Ocean Community YMCA – Schools Out Program
PACE Adult Day Center of Westerly
Pawcatuck Neighborhood Center
Pawcatuck Neighborhood Center – COVID-19 Relief
Pawcatuck Neighborhood Center – Annual Fund
Rhode Island Center Helping Those In Need
Rhode Island Center Helping Those In Need – COVID-19 Relief
Rhode Island Food Bank
RI Credit Union's High School Basketball Tournament
RI Food Bank
RI Higher Education
South County Arts Association
South County Health – COVID-19 Relief
South Kingstown High School Sports Boosters
South Kingstown Land Trust
South Kingstown Wellness
Special Olympics of Rhode Island
St. Vincent DePaul Society
St. Vincent DePaul Society – COVID-19 Relief
Stand up for Animals
Stonington High School Graduation Party
Stonington High School Sports Boosters
The Prout School
United Theatre Capital Campaign
WARM Center
WARM Center – COVID-19 Relief
Westerly Area Youth Lacrosse
Westerly Boy Scouts Troops
Westerly Girls Softball League
Westerly High School Athletic Hall of Fame
Westerly High School Sports Boosters
Westerly High School Theatre
Westerly Hospital – COVID-19 Relief
Westerly Industrial League
Westerly Land Trust
Westerly Library & Wilcox Park
Westerly Lions Club
Westerly National Little League
Westerly Pee Wee Football
Westerly Revolving Fund
Westerly Rotary Club
Winnapaug Country Club
Westerly Community Credit Union is a full-service credit union with Rhode Island branches in Westerly, Richmond and Wakefield.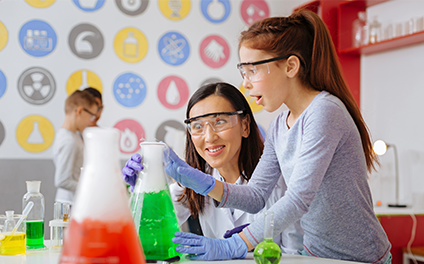 Teacher Grant Program
WCCU will be awarding $8,500 this year in values up to $500! Apply by Oct. 31, 2021
I joined WCCU because I want to do business with a community bank with employees who know my name, my kids, and support the community. Plus, WCCU offers great banking choices & products.
Elaine T. of Westerly
I joined because it feels like the credit union really cares about you.
Lisa O. of Branford
I joined WCCU because of the service and the lower fees. All the employees are very friendly and helpful and will do everything to resolve any issues. I would recommend this financial institution to family and friends.
Marge P. of Westerly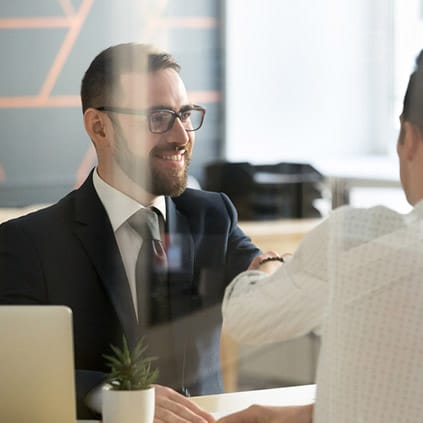 Why WCCU?
Our focus it to put our members needs first and provide the best financial experience we can to help you succeed.