Why do we give? Because we want to be a positive force in our community.
At WCCU, we care about you, your financial needs, and our community! That means providing exceptional financial services, as well as being consultants for every stage of your life. For those who want to learn more, we provide financial literacy and work within our community to build & promote strong financial management skills. And finally, we support our local communities by sponsoring and volunteering to over a hundred worthwhile organizations and events yearly.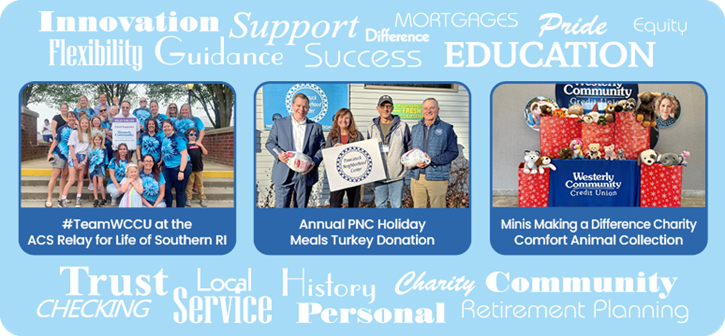 Have a donation request? Please forward it in writing to: Westerly Community Credit Union, Attn. Donations Committee, 4979 Tower Hill Rd., Wakefield, RI 02879.
Alzheimer's Association

American Cancer Society

American Heart Association

Arthritis Foundation

Artist Cooperative Gallery

Ashaway Free Library

Babcock Smith House & Museum

Belly Button Walk 5K

Breast Cancer Research

Central RI Chamber

Century 21

Chariho Rotary Club

Chorus of Westerly

Chris Collins Foundation

Cooperative Credit Union Associate co-sponsor for events such as:

The Annual Credit Union RI High School Basketball Championships

Special Olympics

CULAC Golf Tournament

Scholarship Program

Coventry Headliner Music Fest

Coventry Parks & Rec- Summer Series

Continuum Care

Dante Society

Domestic Violence Resource Center of South County

Dunns Corners Fire District- Shred Day

Frank Olean Center

Granite Theatre

HopArts

Hope Valley- Wyoming Fire District

Jonnycake Center of Hope

Literacy Volunteers of Washington County

Military Officers Association

Minis Making a Difference

Misquamicut Business Association

Mount Carmel Society

Multiple Sclerosis Walk

Mystic/Noank Community Band Memorial Scholarship Fund

Narragansett Chamber of Commerce

Narragansett Firefighters Ball

Narragansett Historical Society

Narragansett Ice Rink- Sponsor

National Association of Women in Construction RI Chapter

Ocean Community Chamber of Commerce

Ocean Community YMCA- Westerly and Arcadia

Our Lady of Czenstochowa

Project Hand Up Warwick

Pawcatuck Neighborhood Center

Rhode Island Audubon Society

Rhode Island Center Assisting Those in Need (RICAN)

Richmond Police IBPO

Ronald McDonald House

Sanai Temple

South County Art Association

South County Habitat for Humanity

South County Health (Hospital)

Southern RI Chamber

Southern RI Volunteers

South Kingstown Land Trust

Stand up for Animals

St. Bernard Church

St Vincent DePaul Society

The Supper Table

The United Theatre

Theatre By the Sea

Tyler Killeen Memorial Fund

Tunnels to Towers

Vested Interest in K9s

W.A.R.M. Center

Watch Hill Business Association

Westerly Airport Association

Westerly Hospital Foundation

Westerly Historical Society

Westerly Library & Wilcox Park

Westerly Land Trust

Westerly Lions Club

Westerly Rotary Club

Wood River Health Services

World Council of Credit Unions Ukrainian Displacement Fund

Yale New Haven Westerly Hospital

Yellow Horse Fall Festival
Boy Scouts of America- Narragansett Council

Canonicus Camp Exeter

Chariho Community 2000 Foundation

Chariho Girls Softball

Chariho High School:

Boosters

Chariho School district- Teacher Grants

Chariho Little League

Compass School

Coventry Football/Cheerleading Booster Club

Coventry School District

EWG Sports 4 Kids

Exeter-West Greenwich School District

Hasbro Children's Hospital

Maddie Potts Foundation

Narragansett School District

NEARI Children's Fund

North Stonington Education Foundation

North Stonington Schools

Prout School

Rock Star Cheer

Run to Home Base

South Kingstown School District

South Kingstown High School:

Stonington High School:

Sports Boosters

All Night Grad Party

Stonington School District

Southern RI Youth Hockey

St. Jude's Children's Research Hospital

Theatre Scrapbook

University of Rhode Island:

Financial Literacy Committee

Athletics Fund

Money Basics Financial Literacy Sponsorship

Westerly Area Youth Lacrosse

Westerly High School:

Alumni Scholarship Fund

Sports Boosters

Golf Tournament

Westerly National Little League

Westerly Pee Wee Football

Westerly Recreation- Bradford Youth Group

Westerly School District

Westminster Youth String Ensemble
WCCU Annual Holiday Basketball Tournament
Westerly Community Credit Union Scholarship Program
WCCU Teacher Grant Program
Money Mammals Kids Club
Cemark Financial Literacy Program
CU4Reality Financial Literacy Fair
Everfi Online Financial Literacy Program (RI Financial Scholars Program)
Annual Credit Union RI High School Basketball Championships
WCCU Financial Education Center
Alzheimer's Association
Arcadia YMCA
Arthritis Foundation RI
Babcock Smith House
Belly Button Walk 5K
Central RI Chamber of Commerce
Chariho Centennial Lions Club
Charlestown Chamber of Commerce
Chorus of Westerly
Chris W. Cruickshank Scholarship Foundation
Cooperative Credit Union Association:

Board of Directors
Advocacy
Marketing
RI High School Basketball Championship and
Social Responsibility Committees

Dunn's Corners Fire District
East Greenwich Chamber of Commerce
Eighth Regiment CT Volunteer Infantry CoA Inc.
First Congregational Ecc Soc Stonington
Independent Credit Management Association
Minis Making a Difference
Misquamicut Business Association
Morningside Condominiums
Mount Carmel Festival
Mystic Chamber of Commerce
Narragansett Chamber of Commerce
Newport Chamber of Commerce
Pawcatuck Neighborhood Center
Ocean Community Chamber of Commerce
Ocean Community YMCA
RI Center Assisting those in Need (RICAN)
RI Special Olympics
RI Treasurer's Financial Literacy Round Table
Rotary Club of Chariho
Rotary District 7950
St. Andrew Lutheran Church
St. Pius X Parish Council
Southern RI Chamber of Commerce
South County Health Business Partners
The Supper Table
United Way
URI Financial Education Committee
Washington County Fire Police Association
Watch Hill Fire District
West Warwick Elks 1697
Westerly College Club
Westerly Community Athletic Complex
Westerly Education Endowment Fund
Westerly Fire District
Westerly Historical Society
Westerly Land Trust
Westerly Lions Club
Westerly Public Library
Westerly Town Licensing Board

Westerly Community Credit Union is a full-service credit union with Rhode Island branches in Westerly, Richmond, Wakefield, and Coventry.
I joined WCCU because I want to do business with a community bank with employees who know my name, my kids, and support the community. Plus, WCCU offers great banking choices & products.
Elaine T. of Westerly
I joined because it feels like the credit union really cares about you.
Lisa O. of Branford
I joined WCCU because of the service and the lower fees. All the employees are very friendly and helpful and will do everything to resolve any issues. I would recommend this financial institution to family and friends.
Marge P. of Westerly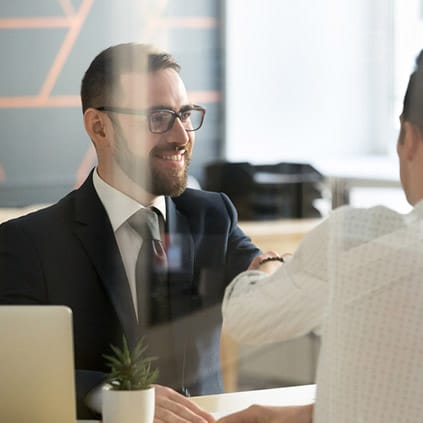 Why WCCU?
Our focus it to put our members needs first and provide the best financial experience we can to help you succeed.