Help is available when you know where to turn
Protecting your personal data from fraud is getting more complicated every day. If you do become a victim of identity theft, know we are here to help you. Either call us or follow the steps below to quickly safeguard your finances.
You may also contact your local police department to file a report if you wish to do so.
Local police department
U.S. Postal Service (If you believe your identity was stolen via mail theft.)
The alert entitles you to another round of free credit reports, beyond the one you get every 12 months via
AnnualCreditReport.com
.
If new accounts were opened, call the fraud or customer service department to help close them. The FTC has a sample letter you can use if written notice is required. Keep record of who you contacted and when.
Notify fraud or customer service departments.
Close or freeze your accounts.
Cancel your Debit or Credit card and report/dispute any suspicious activity. Once you receive your new card, remember to update any automatic payments that were previously setup with the old card number.
Change login, passwords and PINS for your accounts.
Make sure everything was taken care of by reviewing your reports for fraudulent accounts and disputing errors. Then think about protecting yourself in the future.
Credit Freeze - Freezing your credit restricts access to your credit report so lenders cannot see your information until you remove the freeze. This is the most effective way to block applications for new credit and requires the use of a password protected account or PIN. The service is free and will not hurt your credit score.
Credit Lock - Similar to a credit freeze, a credit lock restricts lender access to your credit report, however you are able to unlock your credit report immediately when you want to allow access. The credit bureaus credit lock services may carry a monthly fee.
Fraud Alert - Fraud alerts require businesses to take extra steps to verify an applicants identity before credit is extended. The service is free, but provides lower protection than a credit freeze or lock and needs to be renewed after 90 days, unless Military or an Identity Theft victim.
Extended Fraud Alert - Identity Theft victims can file an extended alert that lasts for 7 years. You will be required to provide documentation and an identity theft report.
Active Duty Alert - If you are in the military and are actively deployed, you can place an active-duty alert on your credit report, which removes your name from pre-screened offers for two years and requires the lender to take extra steps to verify an applicants identity before granting credit in your name. The service is also free and must be renewed yearly while actively deployed.
Credit Card Statements
Financial Account Statements
Credit Report - You are entitled to one free credit report from each of the credit bureaus every 12 months, via AnnualCreditReport.com. To extend this benefit throughout the year, consider spacing out your free reports by choosing to review only one of the three agency reports every four months.
Credit Score
Medical Plans
Benefits
Utilities
Review and secure your Social Security Account, via
ssa.gov/myaccount
.
Safeguard your Social Security Number. Refrain from carrying your Social Security Card in your wallet and using all or part of your Social Security Number in PINs or passwords.
File your taxes as early as possible to get ahead of scammers attempting to hijack your refund.
Pay attention to signs someone has obtained medical benefits using your information.
Notify Postal Service to hold your mail if you are going out of town.
Limit how much info you share.
Make liberal use of a shredder.
Protect your mobile devices with hard-to-guess passwords.
Turn off Bluetooth unless you are using it.
Keep computer and mobile device software updated.
Be aware that public Wi-Fi may allow others to see your data.
Westerly Community Credit Union is a full-service credit union with Rhode Island branches in Westerly, Richmond, Wakefield, and Coventry.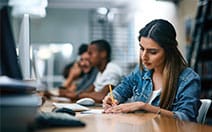 Financial Education
New! Financial Education Center to help you with every financial situation.
I joined because they have a great staff that are willing to work with you when life hits you hard, especially when you're a student.
Sarah L. of Wood River Junction
I joined because I wanted all the perks of a big bank but with a small-town feel. Plus, it is my community and the best bank for me!
Kelly R. of Richmond
I joined because my mom and dad use WCCU. They loved it so I joined, and I love it. They are so nice and helpful- great people at all the branches.

Kevin P. of Charlestown