Online security should be a top priority
In many ways, technology has made our lives much easier. But it's also opened up new avenues of attack for fraudsters, scammers and ID thieves. At Westerly Community Credit Union, we want to help you recognize the many ways they may attempt to gain access to your money and personal information. We provide some of the top scams, tips and information regarding WCCU's eBanking, internet and email security below.
Please note
: WCCU will
never
ask you for personal or financial information through email, text or social media, including your username, password, account number or SSN. If you receive any requests, Do Not respond and notify us immediately at
401.596.7000
.
Want to give money to help the Ukraine? Watch out for scammers!
Whenever there is a crisis, scammers will often setup fake charities to try to take your money. With the current crisis in Ukraine, this is the perfect opportunity to try to take advantage of people who are trying to donate money to help support Ukraine.
Here are some tips to make sure that your money is going to the right place:
Search the organization online and read their reviews to make sure they are reputable.
Research the organization to find out where your donation is going and how it will be used.
Find out how much of your donation will go to the program you want to help.
Don't assume the information from friends and family or on social media is credible.
Check to see if there are any fees and how quickly it will get to them.
Click here
for more information.
Senior Safety
WCCU is one of many credit unions nationwide taking a stand to protect the elderly from financial abuse.
Click here
to visit CU Senior Safeguard, an online, educational program developed to fight the financial scams and fraud being perpetrated against the elderly.
Other Resources
If you think you might be a victim of identity theft, we've prepared a checklist of steps you can take to safeguard your finances and begin repairing the damage.
For more tips on elder fraud prevention and reporting, check out our Financial Education Center.
Westerly Community Credit Union will never ask you to send confidential information to us via email, such as your login ID, password, account numbers, or Social Security Number.
If you receive any such request, DO NOT respond to it. Please notify us immediately at 401.596.7000.
However, in order to establish or maintain financial services offered by WCCU, we may request confidential information through secure contact email or protected online applications.
We will safeguard any information you share with us using security measures that comply with federal and state laws to ensure protections against unauthorized access.
Delete suspicious e-mails from unknown sources without opening them.
Do not click on links in an unsolicited e-mail or pop-up advertisement asking for personal information.
Do not open and install attachments and free software from unknown sources.
If you receive an e-mail that warns you, with little or no notice, that an account will be shut down unless you reconfirm your personal information, do not reply or click on the link in the e-mail. Call the company cited in the e-mail using a telephone number you know to be genuine to confirm if the request is authentic.
Do not send confidential information such as account numbers and passwords over the internet in an e-mail.
Before submitting confidential information through a website, make sure the connection is secure. Normally, the URL address will begin with https://. You should also see a locked padlock icon at the bottom of your browser window.
Exercise caution when conducting business with parties that contact you over the internet and request that you send payment to them or to a third party. Never provide personal information over the phone or the internet if you did not initiate the contact.
Always log off websites where you have entered a user ID and password and when you are done with your Online Banking session. Do not just close out the window.
Keep your eBanking password secure. Do not share your password with anyone. No financial institution or reputable business will ever ask you for your password.
Do not use obvious or easily obtainable information for your passwords, such as your name or date of birth, pet's name, child's name, etc. Select a password that uses letters, numbers and symbols to make it harder to guess and change it frequently.
Do not store passwords on the devices you use to access eBanking. Secure or encrypt password files.
Do not use your eBanking password on other websites.
Never access eBanking from a public wireless access point (ex: hotel or library computers) because these may not be secure and can be easily monitored by fraudsters.
Establish eBanking alerts to monitor for large and unusual transactions.
Frequently check eBanking and your eStatements to look for fraudulent transactions or unauthorized logins. Immediately report any suspicious transactions or activity to the Credit Union.
Install anti-virus and anti-malware protection software on your computer and make sure it is always up to date and running. Frequently scan for viruses.
Update all computer programs and mobile operating systems to protect against new security vulnerabilities.
Password protect and enable auto-lockout on your mobile devices to prevent unauthorized access.
Only download mobile apps from authorized vendors.
If you notice any of these signs, scan your computer for viruses or malware and check your account for fraudulent activity:
Unauthorized logins to your eBanking account.
Unusually small transactions posting to your accounts that you do not recognize.
Computer running slowly or dramatic loss of computer speed.
Changes in the look of your computer screen or internet pages.
Unexpected computer reboot.
Unexpected request to enter a one-time password or other information during a session.
New or unexpected toolbars or icons.
Inability to shut down or restart the computer.
Unusual pop-up messages.
Inability to login to the eBanking site.
Internet pages redirected to unusual or unexpected sites.
What is skimming?

Skimming is the act of stealing PIN and debit card information using skimming devices and cameras attached to ATMs and merchants' electronic payment devices.

What is a skimming device?

A skimming device is a card reader that is placed over the real card reader slot of the machine which typically looks identical to the real reader. When a card is slid or swiped through the skimming device, all card information from the magnetic strip is saved. There is also a hidden camera(s) pointed directly at the keypad of the machine to record a patron typing in his/her PIN.

How does skimming happen?

The criminal compiles the data from the skimming device and the camera(s) and creates fake debit cards using the stolen information. As technology advances, skimming devices and hidden cameras are becoming much more difficult to detect. Skimming can happen at ATMs, gas pumps and anywhere else credit and debit cards are accepted. It is important to know what you can do to help protect yourself from a skimming attempt.
3 Skimmer-Protection Tips
Cover Your PIN

Always cover the keypad of a machine when putting your PIN in using your hand. Criminals use hidden cameras to steal PIN information. By covering the keypad, you significantly decrease the chances of a criminal accessing your PIN.

Observe the ATM

Before using a machine, look for anything that may look out-of-place. If the card reader feels loose, there may be a skimmer attached. A genuine card reader will be securely attached to the ATM. Be sure to examine the keypad as well. If the keypad looks different from the rest of the machine, something may be wrong. Lastly, you will want to inspect the machine and surrounding area for any hidden cameras.

Monitor Your Accounts

Regularly check your accounts. If there is any suspicious activity on your account, contact us immediately at 401.596.7000.
Westerly Community Credit Union is a full-service credit union with Rhode Island branches in Westerly, Richmond, Wakefield, and Coventry.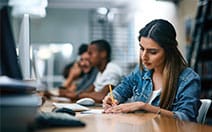 Financial Education
New! Financial Education Center to help you with every financial situation.
I joined because they have a great staff that are willing to work with you when life hits you hard, especially when you're a student.
Sarah L. of Wood River Junction
I joined because I wanted all the perks of a big bank but with a small-town feel. Plus, it is my community and the best bank for me!
Kelly R. of Richmond
I joined because my mom and dad use WCCU. They loved it so I joined, and I love it. They are so nice and helpful- great people at all the branches.

Kevin P. of Charlestown