When a mistake happens, we can help fill the gap
There are times when an oversight leads to you overdrawing your account. Instead of your checks and bill payments being declined, WCCU's Overdraft Coverage takes care of it for you.
We can cover your overdrafts in different ways:
| Service | Cost |
| --- | --- |
| Overdraft Protection Link to Another Deposit Account you have at WCCU1 | $5 fee per transfer |
| Overdraft Protection Line of Credit1,2 | Subject to fees and interest |
| Overdraft Privilege | $29.50 Overdraft Privilege Service Charge per Item |
For more information about these options and to help you become more educated about Overdraft Protection and what actions are covered, please read this notice explaining our standard overdraft practices.
To apply for Overdraft Protection, please complete this form.
FAQs
We do authorize and pay overdrafts for the following types of transactions:
Checks and other transactions made using your Checking Account number
Automatic bill payments
We will not authorize and pay overdrafts for the following types of transactions without your consent.
ATM transactions
Everyday debit card transactions
We pay overdrafts at our discretion, which means we do not guarantee that we will always authorize and pay any type of transaction. If we do not authorize and pay an overdraft, your transaction will be declined.
Under our standard overdraft practices:
You will receive a service charge of up to $29.50 each time we pay an overdraft
There is no limit per day on the total fees we can charge you for overdrawing your account
If you want us to authorize and pay overdrafts on ATM and everyday debit card transactions, call
(401) 596-7000
, click here to send us a secure message or to sign up using
eBanking
, complete and submit the secure form below, or print it and present it at a branch or mail it to: 122 Granite Street, Westerly, RI 02891. You can revoke your authorization for Westerly Community Credit Union to pay these overdrafts at any time by any of the above methods. Your revocation must include both your name and your account number so that we can properly identify your account.
WCCU helped my wife and I pay off our mortgage. We have been mortgage-free for over a year now and have gained financial freedom.
David I. of Charlestown
We joined right after WCCU opened. Needed a loan to pay off some bills. Everyone is so helpful and always has a smile for you. Always made me feel like part of the family. For me...the WCCU is the only place to bank! Thank you so much for such great service over the many years!
Gerry M. of Westerly
We joined the WCCU many years ago because we really got tired of the big banks with their big fees and lack of community. We stayed because they treated us like we mattered. They valued their members by offering great rates on mortgages and HEQ loans. When my husband became ill, they worked with us until we could get back on our feet. Only small hometown banks offer this type of service.
Deanna C. of Westerly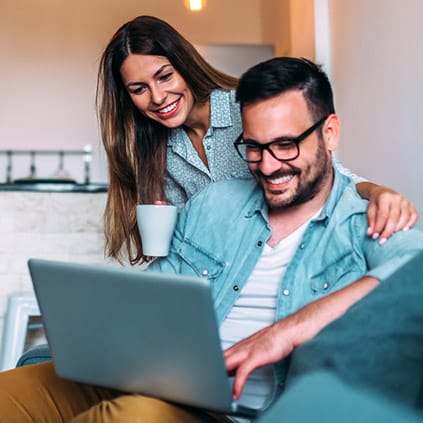 Free Credit Report Review
We can help you reach your financial goals. Start with a Free Credit Report Review at WCCU.